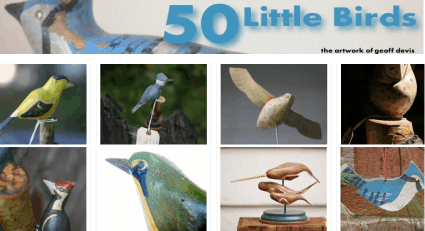 One of the products 50 Little Birds sells is American Made Carved Birds. A more complete list of their products is provided by Made in America Secrets, to review their list click here.

For more information about 50 Little Birds and its Made in America products see the following:
Geoff Davis has done woodworking projects all of his life, but it was ukulele-making that sent him down a path in 2008 to carve Indiana birds.
"Building a ukulele requires expensive materials, exotic woods and hard-to-get hardware," he explained.  "During a time when I could not afford to begin a ukulele building project, I began to carve birds from found materials and scrap."
As it turns out, bird carving was deeply satisfying to him. "It opened the doors to a wide variety of the research and field work that I enjoyed.  The work called upon my skills as a naturalist, a painter, a designer, a scrounger and a woodworker," Geoff said
The public embraced his work. He donated his first 50 birds to another of his passions, the Blue Stone Folk School in Noblesville. Blue Stone teaches and raises awareness of traditional arts. Program funding has always been difficult to come by, but he was able to invest the proceeds of those original sales to host programs and a concert at Blue Stone.
Geoff is a sort of explorer in wood projects. In addition to building ukuleles and carving birds, he has built boats and carved spoons. He may seem free-spirited but says he developed "rules that would define and  confine my approach and execution" of the vision of his work.  "These guidelines allow my work to evolve, but maintain the elements that are most important – approach and design, material choices, painting styles, color choices and presentation.
"Trends in bird carving strive to develop pieces that are as realistic as possible, often impossible to discern from the real animal," he continued.  "My approach is to capture and stylize only the simplest defining elements of a bird.  My birds are far from realistic, but readily identifiable as a particular species and gender. My carvings not only visually represent birds but they also represent my stories and experiences with these birds."
Indiana born and raised, Geoff says being a Hoosier is important to his work and identity as an artist and musician.
"Being a part of Indiana Artisan validates my 'Hoosierness,'" he said. " "Since I've become involved with Indiana Artisan, I've become affiliated with a handful of artists producing work that complements my own.  These relationships have led to gallery representation, better art show opportunities and interesting collaborations."