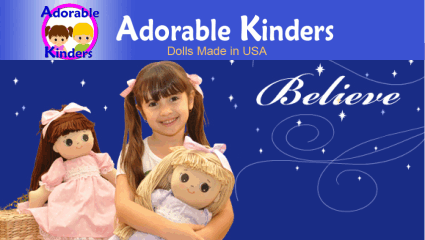 One of the products Adorable Kinders sells is American Made Dolls. A more complete list of their products is provided by Made in America Secrets, to review their list click here.

For more information about Adorable Kinders and its Made in the USA products see the following:
Our City of New York - Color, Play and Learn Activity Book app has 15 coloring pages, 8 games, and lots of information about the city. It is a quick, easy and fun approach for learning about New York City.
Kids will enjoy coloring pages of New York City landmarks and saving them to the camera roll, as well as playing puzzle, maze and crossword games. They can also enter their name for a Good Citizenship Award.
They will learn about the flag, seal, map, and history of New York City. There are 3 coloring modes to choose from, crayons, markers or bucket fill. Each coloring page displays a New York City landmark or icon. Tapping the Save button will save the page to the Camera Roll. The user can share or print the coloring pages.
This application is completely self-contained and does not require internet connection. It is an excellent tool to use by an individual student, an entire class, or just for fun when traveling on your vacations. Enjoy!